Description
KKanto YU4
Powered stereo speakers with Bluetooth and phono preamp (Walnut)
Music is made to be shared. Whether you're hanging out with friends or kicking it solo, YU4 ensures you're always in good company. Producing 140W peak power, its Class D amplifier effortlessly fills your room with rich, spacious sound. Carefully designed 4" Kevlar drivers and 1" silk dome tweeters faithfully reproduce your favorite tunes, letting you enjoy them to their fullest. Packed with connectivity, YU4 makes it easy to throw on your latest vinyl with a built-in phono preamp, or sit back and stream your carefully curated playlist via Bluetooth. Crystal-clear, detailed sound for all to enjoy. Inspired by an equal appreciation for digital and analog, YU4 gives you the freedom to enjoy all your devices. Connect a turntable via a built-in phono preamp, transmit high fidelity audio from your computer or TV with Optical TOSLINK, or sit back and enjoy your newly curated playlist with Bluetooth 4.0. With five inputs and a subwoofer output, YU4 brings all your sound to life.
Play tunes from the palm of your hand.
Featuring integrated Bluetooth 4.0 with Qualcomm® aptX™ technology, YU4 lets you stream high-quality audio directly from any Bluetooth-enabled device. Sit back and enjoy your carefully curated playlist from anywhere in the room.
Product highlights:
Bluetooth® 4.0 with high-quality aptX™ audio streaming
Switchable phono preamp built in
Each speaker features:
1″ silk dome tweeter
4″ Kevlar® woofer
Rear-firing bass-reflex port
Built-in Class D amplifier provides 70 watts total RMS power
Frequency response: 60-20,000 Hz
Remote included
Gold-plated binding post speaker terminals (16-foot speaker wire included to connect left and right speaker)
Dual Toslink optical digital audio inputs
Optical digital inputs support up to 24-bit/96kHz input (two-channel PCM only)
Analog stereo RCA input with phono switch
Analog 3.5mm auxiliary input (6.5-foot cable included)
Mono RCA subwoofer output
USB Type-A charging port (5V/1A)
Speaker dimensions: 5-1/2″W x 7-1/2″H x 8-3/4″D
Weight: 6.9 lbs. (left speaker), 5.5 lbs. (right speaker)
Warranty: 2 years
Our 30-day money-back guarantee
MFR # YU4WALNUT
BLUETOOTH™ APTX™
Built-in Bluetooth™ with Qualcomm® aptX™ technology lets you enjoy high-quality streaming from the palm of your hand.
PHONO PREAMP
Equipped with an integrated phono preamp, YU4 can be easily connected to any vintage or modern day turntable.
REMARKABLE SOUND
Enclosed in handcrafted cabinets, YU4's 1" silk dome tweeters and 4" Kevlar® drivers deliver crisp highs and wonderfully balanced mid-range, faithfully reproducing all your favorite tunes.
SIMPLE INTERFACE
YU4's user-friendly interface features a single knob. Simply rotate for volume, push in to cycle through the five inputs, or push and hold to activate and deactivate standby mode.
SIGNAL DETECTION
YU4 features automatic standby and power-up modes, helping to conserve power when you're gone and ensuring you never miss a beat when the music starts playing.
REMOTE CONTROL
With volume, input, tone and balance controls, as well as playback options when using Bluetooth™, the YU4 remote gives you full control over your audio.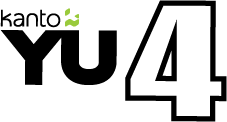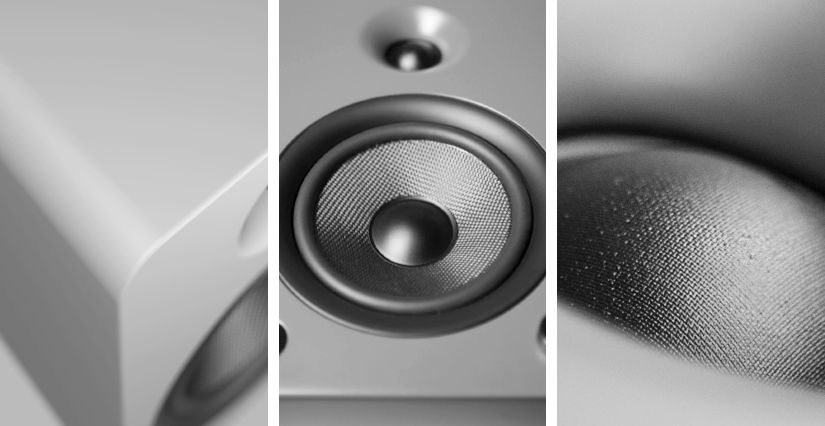 ELEGANT DESIGN
KANTO SPEAKERS INCORPORATE AN AESTHETIC CENTERED AROUND TWO MODERN DESIGN PRINCIPLES: SIMPLE FORM FACTOR AND USE OF PREMIUM MATERIALS. CAREFULLY SANDED CABINETS, WOVEN KEVLAR® DRIVERS AND EYE-CATCHING SILK DOME TWEETERS PROVIDE MORE THAN SOMETHING TO LISTEN TO. TOGETHER THEY EMBODY A PASSION FOR BOTH SOUND AND DESIGN.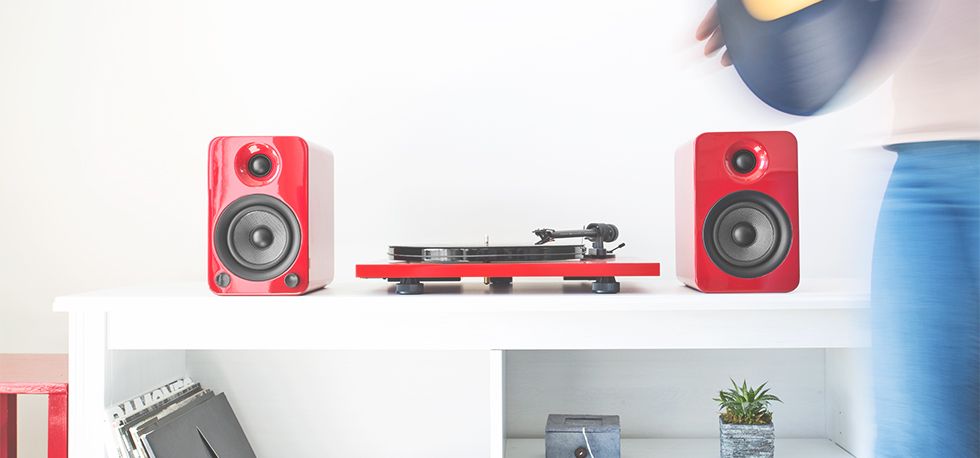 TURNTABLE-READY
INSPIRED BY AN EQUAL APPRECIATION FOR DIGITAL AND ANALOG, YU4 GIVES YOU THE FREEDOM TO THROW ON YOUR LATEST VINYL WITH A BUILT-IN PHONO PREAMP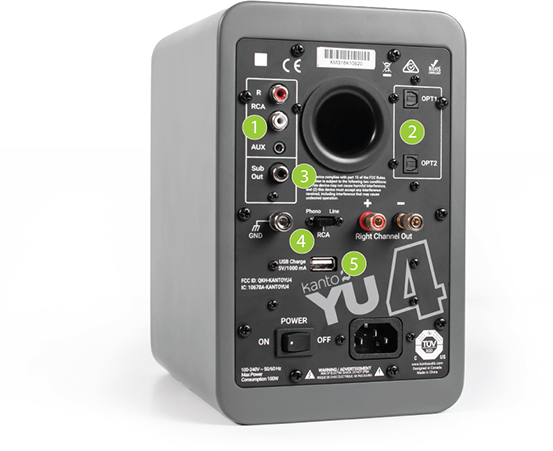 RCA & AUX INPUTS
COMPATIBLE WITH VIRTUALLY ALL AUDIO DEVICES, RCA AND AUX PORTS PROVIDE A QUICK AND EASY WAY OF CONNECTING TO YOUR SOURCE.

OPTICAL INPUTS
ENJOY THE BEST SOUND YOUR DIGITAL DEVICES HAVE TO OFFER WITH TWO OPTICAL TOSLINK PORTS.

SUBWOOFER OUTPUT
FOR ADDITIONAL BASS, PLUG A SUBWOOFER INTO THE SUB OUT PORT.
PHONO/LINE SWITCH

A BUILT-IN PHONO PREAMP ALLOWS YOU TO PLUG A TURNTABLE DIRECTLY INTO YOUR SPEAKERS. FLIP BETWEEN PHONO AND LINE INPUTS WITH A SINGLE SWITCH.
USB CHARGE PORT
KEEP YOUR PHONE CHARGED WITH A 5V USB PORT TO ENSURE YOU NEVER MISS A BEAT.

BLUETOOTH ENABLED
FEATURING BUILT-IN BLUETOOTH™ WITH QUALCOMM® APTX™ TECHNOLOGY, YU4 ALLOWS YOU TO SIT BACK AND ENJOY YOUR NEWLY CURATED PLAYLIST FROM THE PALM OF YOUR HAND.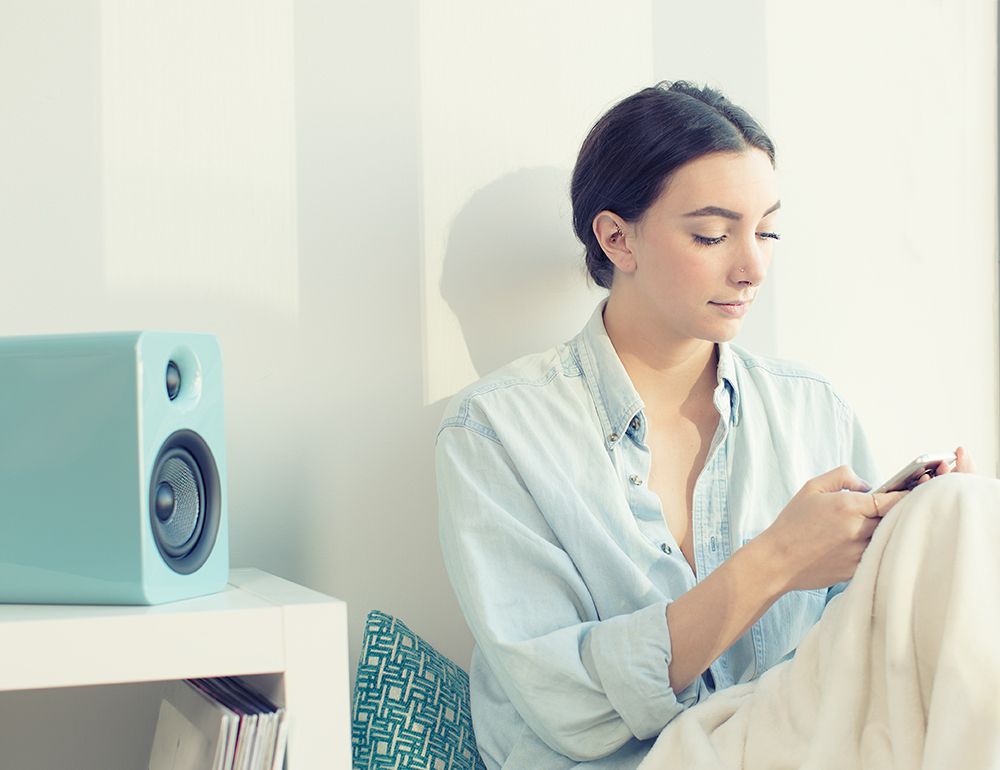 REMOTE CONTROL
PACKED WITH FUNCTIONALITY, THE YU SERIES REMOTE MAKES LISTENING TO MUSIC MORE CONVENIENT. QUICKLY SWITCH BETWEEN SOURCES, TUNE YOUR SOUND TO FIT YOUR SPACE, AND CONTROL PLAYBACK WHILE STREAMING VIA BLUETOOTH™.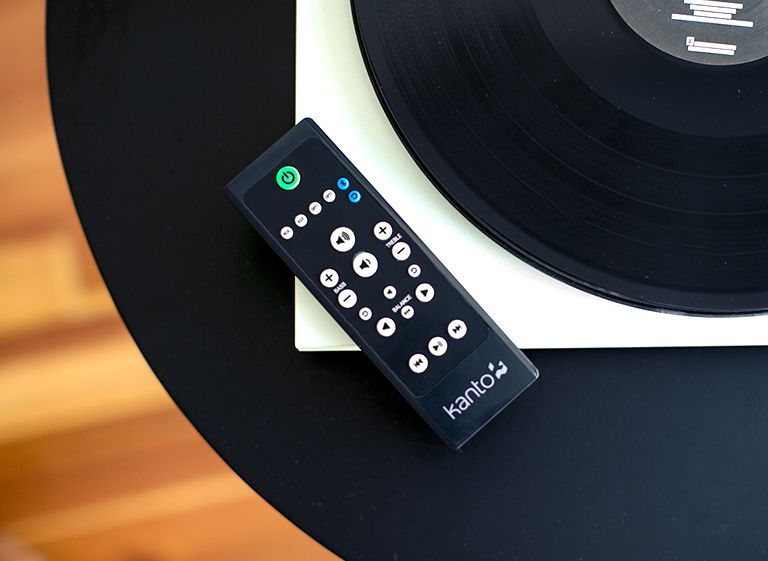 SIGNAL DETECTION
YU4 FEATURES AUTOMATIC STANDBY AND POWER-UP MODES, HELPING TO CONSERVE POWER WHEN YOU'RE GONE AND ENSURING YOU NEVER MISS A BEAT WHEN THE MUSIC STARTS PLAYING.